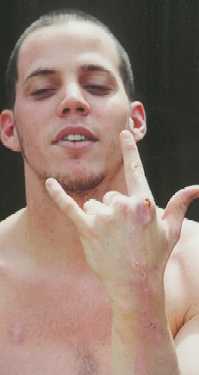 My full name is Stephen Gilchrist Glover. I was born on June 13th, 1974 in London, England. When I was 6 months old, my family moved to Brazil, to Rio de Janeiro. My first words were spoken in Portuguese because my parents had servants and they spent more time with me than my parents. At the age of 2, I moved to Caracas, Venezuela where I attended nursery school speaking Spanish fluently. At that point I was definitely ripping up stunts on my plastic big wheel with my bib on backwards as a cape. When I was 4 years old the family moved to Darien, Connecticut where I started Kindergarten at an American school. I spent a few years there, then when I was 6 years old we moved to Miami, Florida where I spent 1st, 2nd, 3rd and half of 4th grade. When I was 9 years old we moved to London, England for 4th, 5th and 6th grade. That was kind of a formative time. At that time my sister who is 4 years older was into gymnastics a lot. She was on some kind of team. She'd come home and force me to do all kinds of acrobatics and stuff. I just remember doing a lot of handstands on diving boards and stuff. When I was 11 years old, I started skateboarding in 1985 in London. So I've been a skater ever since then. When I turned 12 we moved to Toronto, Ontario in Canada where I continued to skate. I lived there for 1 1/2 years. When I was 13 we moved back to London and I spent all 4 years of high school at an American school there. By the time I turned 16, and got laid for my first time, I somehow just became more interested in alcohol and drugs. So it's been pretty much alcohol and drugs and skateboarding, and once I graduated from high school when I was 18, I went to University of Miami where I enjoyed a lot of skateboarding, alcohol, drugs and really took a major liking to the high dive at the pool. I hardly even lasted 1 year. Considering my grades, I can't even call it 1 year before I dropped out and decided to become a stunt man. At that point I cut off all communication with my family for 6 months or so. I was just roaming around being an idiot. I was homeless for 3 years. But I pretty much had a video camera the whole time. So even though I was a homeless couch surfing dip-shit I was able to put together a lot of footage. My highest goal at that time was to get sponsors in the skateboarding business, and be in skateboarding magazines and videos. I accomplished that goal. I really did believe that I wanted to be a stuntman. My sister found out about Ringling Brothers Barnum and Bailey Clown College. I had never really wanted to become a circus clown, but I somehow figured that if I could get Ringling Brothers on my resume, that it would somehow get me closer to a career as a legitimate stuntman. I hitchhiked from Albuquerque to Denver and told them I wanted to be a clown. I don't know how. Statistically it's harder to get into Ringling Brother Clown College than it is to get into Harvard. They hold auditions in 100 cities over the course of the year. You have to audition to even get an application. Out of 2000 applicants only 30 get in. Ringling Brothers has 2 different units. They hold clown college auditions in each city they go to. They swap up their cities each year. I somehow got in. So, I became a professional circus clown, but I didn't have a job. I graduated from Clown College but they didn't hire me to work in the circus. So I returned to filming retarded stunts in Albuquerque for skate videos, and selling pot to pay my rent. Then I wound up moving to Florida, and got a job as a circus clown on cruise ships. So I spent 6 months doing that, and lost that job. But I saved $9,000 dollars. So I bought myself a car, and went to California to film for the pilot of Jackass, which I didn1t even know existed. This was December '99. That was the first time I met P.J., when I did that stunt for Big Brother where I'm on stilts and someone's driving through the stilts, and at the same time someone's olleying off the roof over my head, while blowing fire out my mouth. Next I joined the circus in Ft. Lauderdale at the flea market/world's largest drive in. I was a clown for 6 months, up until my last circus show, which was filmed by the Jackass crew and got me, fired from the circus. The circus people didn1t want it to be filmed. With us, a lot of the time we just film it and then look for release films afterwards. But they were offended enough by having the MTV crew film my performance that I lost my job. While I waited for Jackass to hit the air I had to whore myself out to some Internet companies for money. I agree to film all sorts of crap. But who cares because Jackass went huge and now were making more money then we did before. In January I got a call from a fan of Jackass, he's like a nightclub promoter, from Cleveland he says, "I want to pay 700 bucks for you to come to a party in Cleveland. I can fly you in and out." I say, "What do you want me to do?" And he says,"I want you to get fucking wasted." I had to skate around on ice-skates on this river, until I fell through the ice. That was fun. Then Spring Break Rolls around and the same guy says he wants to pay me $4,000 to come to a couple parties in Panama city at this night club. Sold out largest nightclub in America. So what's your act? I do an hour and a half on stage eating light bulbs and stapling myself and setting myself on fire. I jump off shit on stilts. I just got back from Mexico. We did 4 shows, with 3 of us on stage at a time. We got Preston, making out with girl after girl after girl on stage. I've made a ton of money in Mexico. We just shot a Shaquille O'Neil Video, and I'm in post production on my own Steve-O "Too Hot for TV" video.
Is this separate from MTV?It's so separate from MTV it's incredible. For my video, I have this onewhere I shot up 5 oz. of Vodka into my arm. Like I found a registered nurse to put an I.V. in my arm to help me dump out half a bag of saline and funnel in 5 shots of vodka. I sat there and sucked it in my veins. 80 proof. I was sitting there, and maybe I felt a little wheezy, but I think all we proved was that I'm an alcoholic. I was ok though, I wheeled my I.V. down to the bar and continued drinking. I drank until 5 a.m. that night. Then the next day we performed in front of 30,000 people at the Embassy in Chicago. It was rad. What was that event? That was one of those big music festival things where they had like Papa Roach, Linkin Park, Stained, Fuel, Run DMC, and Disturbed. They had us come out in between these bands and do stunts on stage. Did you rehearse them? Fuck no. We didn1t rehearse shit. We never rehearse the show. It was crazy, 30,000 kids that each paid $70 a ticket to see all these bands and us. There are so many people out there that are stoked on a bunch of dip shits. Are you stoked on it all? Sure man, yeah. That's all I ever wanted. From the beginning I've always been a real problem attention seeker. I was always the new kid in school, I always had something to prove.. Fuck it's the best thing about me, and it's also the worst thing about me. I annoy the hell out of people and I always have, but I do it abrasively enough, that I can't be ignored. Like with Big Brother, they got me started by putting me out in the media. They always made such horrible fun of me, and said how annoying I was, but at the same time I was on the cover of their magazine and getting all this exposure. To go from wanting all this attention, being really stoked to be in skateboarding videos, to having 6 and 1/2 million people watching every Sunday night, it's like what did I get? A lot of attention, and that's all I ever wanted. Is that more important than money?
Sure, yeah. I have this big, like, religious sort of outlook. Sure I'm going to be dead, and so is everyone else, so come the time that I die my goal is to have so much evidence as possible. If kids are still watching my videos, it's the same as me reaching out of the TV and patting these kids on the shoulder and saying, "hey buddy go kick some ass." It's like this afterlife complex I have, where I picture that 500 years after I'm dead, some kids are watching my video and getting stoked on it. Then fuck man, there's nothing dead about me. I'm still alive. It wasn't an easy road to get this far. Fuck, I'm 27 right now and I dropped out of college when I was 19 to become a stuntman. I've only been making a living for a couple years now. That's a good 6 years of me just being a struggling dumb ass that nobody likes. There are so many people out there that during those years, treated me so badly, that everyday I just think, "Ha!" It is kind of important for me to make some money so I can show my dad you know. Do you want to get into films? I dont really have any aspirations of acting. I dont have anything against acting. I'm just not into going in to see agents and kissing their ass to pursue it, and have my black-and-white head shots, and try to maneuver my way in. If people come to me, then yeah right on. I do not want to be another aspiring actor in LA. I moved to LA like 4 months ago and I swear it's exactly what "Blind Date" made it out to be. Every last person is an actor. Everyone's full of shit and says they know everyone. I consider being an aspiring actor in LA the equivalent of someone walking into a gas station and buying a lottery ticket for the chance to win a million dollars. I consider what we do on Jackass to be more like the guy who says he doesn1t want the lottery ticket and just goes and throws himself in front of a bus and tries to get million dollars in a civil suit. Who's got the better chance of making a million? Were a problem that can't be ignored at this point. We don't need Jackass any more at all, cause I'm ready to make it everyone's problem anyway I can. Did you ever think it would go this far? I definitely never thought that I would get this far. I kind of thought maybe I'd have dome kind of Van Gogh thing where I'd have some sort of a message in a bottle kind of footage that would some-how be discovered after I was dead. If I had imagined this when I started out, I would have thought everything would have been great, I'd be having fun. To be in this situation, all it's done is made me feel more pressured. Sure I'm having a lot of fun, but it does is bring up the question, "what are you going to do next?" And, "strike while the iron's hot." Everyone's eyes are on me to watch me fail. Sometimes I almost prefer the days when It was just so easy to be a homeless loser. When a Whopper meant so much. Now I'm just a loser with more pressure. I'll just take it as it comes, and try not to take anything too seriously. Live forever, kick some ass.